Evidence-Based Guidelines for EGPA
Save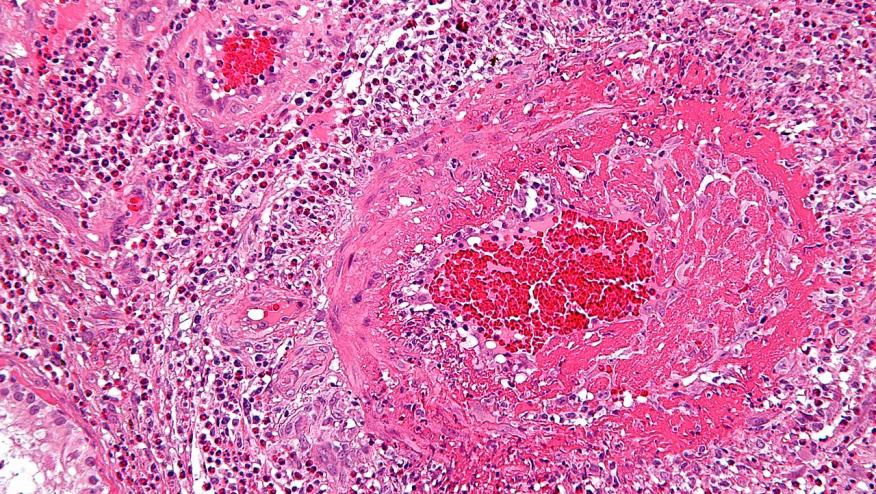 Eosinophilic granulomatosis with polyangiitis (EGPA) is a rare form of anti-neutrophil cytoplasmic antibody (ANCA)-associated vasculitis, affecting between 10 and 14 cases per million globally. This adult disorder has a mean age at diagnosis of nearly 50 years and affects both sexes equally, presenting with pulmonary symptoms (asthma), eosinophilia and granulomatous or vasculitic involvement of several organs.
A multidisciplinary, multinational European group has developed evidence-based, guidelines for the diagnosis and management of EGPA, intended to include recent advances. After developing the PICO questions, a systematic literature review informed the consensus and expert opinion leading to five overarching principles and the 16 guideline statements that address diagnosis, staging, treatment, outcome and follow-up of EGPA. 
Overarching Principles
Patients with EGPA should be offered the best care through the management at or in association with centres of expertise.
EGPA is best managed by interdisciplinary care, with decisions being shared by patients and physicians and with consideration of safety, efficacy and costs.
Patients with EGPA should be educated and made aware of the risks associated with the disease.
Improvement of the quality of life of patients with EGPA is an important goal, together with clinical outcomes such as survival, long-term preservation of organ function and prevention of disease flares.
Patients with EGPA should be screened for treatment-related and cardiovascular comorbidities. Prophylaxis and life-style advice should be given to reduce cardiovascular risk and treatment-related complications.
Recommendations
The diagnosis of EGPA should be considered in patients with asthma, chronic rhinosinusitis and eosinophilia who develop end-organ involvement, particularly peripheral neuropathy, lung infiltrates, cardiomyopathy or other complications (for example, skin, gastrointestinal or kidney involvement).
There are no diagnostic criteria for EGPA. Classification criteria do exist (including the 1990 ACR criteria and 2022 ACR–EULAR criteria). A diagnosis of EGPA should be based on highly suggestive clinical features, objective evidence of vasculitis (for example, from histology), and ANCA.
The diagnostic evaluation of patients with suspected EGPA should always be multidisciplinary; it should rule out other eosinophilic and vasculitic disorders and investigate the main disease complications, particularly heart, respiratory, skin, renal and nervous system involvement, along with ANCA and eosinophilia. Biopsy is recommended when feasible, but is not essential to make the diagnosis of EGPA.
ANCA testing should be performed in all patients with suspected EGPA. ANCA are detectable in 30–40% of patients with EGPA, most of whom test positive for MPO-ANCA. MPO-ANCA-positive patients frequently show features of vasculitis, such as glomerulonephritis, neuropathy and purpura, whereas ANCA-negative patients more frequently manifest cardiomyopathy and lung involvement.
EGPA remission is defined as the absence of clinical signs or symptoms attributable to active disease, including asthma and ENT manifestations. The daily dose of glucocorticoids should also be considered for the definition of remission, and a maximum daily dose of 7.5 mg of prednisone can be chosen as the cut-off.
Remission-induction treatment should be tailored on the basis of clinical manifestations with prognostic relevance. Organ-threatening manifestations included in the Five-Factor Score (renal insufficiency, proteinuria, cardiomyopathy, gastrointestinal tract and central nervous system involvement) as well as peripheral neuropathy and other rare manifestations (for example, alveolar haemorrhage) should be considered when choosing remission-induction strategies.
For remission induction in patients with new-onset, active EGPA, glucocorticoids should be administered as initial therapy. In patients with severe disease (unfavourable prognostic factors discussed in Statement 6) cyclophosphamide or, as an alternative, rituximab, should be added. In patients with non-severe disease, glucocorticoids alone should be used.
For remission maintenance, in patients with severe EGPA, we recommend using rituximab, mepolizumab or traditional DMARDs in combination with glucocorticoids. In patients with non-severe EGPA, we suggest glucocorticoids, alone or in combination with mepolizumab. Glucocorticoids should be tapered to the minimum effective dosage to reduce toxicity.
EGPA relapse is defined as the recurrence of clinical signs or symptoms attributable to active disease following a period of remission. The need for an increase in the glucocorticoid dosage or the initiation of or an increase in an immunosuppressant should also be considered as a relapse. The relapse or new onset of systemic vasculitis (systemic relapse) should be differentiated from the isolated exacerbation of asthma and ENT manifestations (respiratory relapse).
Relapses should be treated according to type (systemic versus respiratory) and severity. For severe systemic relapses, we recommend using rituximab or cyclophosphamide with glucocorticoids. For non-severe systemic and respiratory relapses, we recommend increasing the dose of glucocorticoids and/or adding mepolizumab.
Refractory EGPA is defined as unchanged or increased disease activity after 4 weeks of appropriate remission-induction therapy. The persistence or worsening of systemic manifestations should be distinguished from that of respiratory manifestations.
The IL-5 inhibitor mepolizumab in combination with glucocorticoids is recommended to induce remission in patients with relapsing-refractory EGPA without organ- or life-threatening manifestations. Mepolizumab can also be used for remission maintenance, particularly in patients requiring a daily prednisone dose ≥7.5 mg for the control of their respiratory manifestations.
In patients with EGPA who have active asthma or ENT involvement, topical and/or inhaled therapy must be optimized. The approach to the management of these disease manifestations must involve specialists such as pulmonologists and otolaryngologists.
Treatment decisions should be modified as necessary in special populations of patients such as children, elderly patients, women of child-bearing age and those with comorbidities. There is still no evidence that different phenotypes (such as ANCA-positive versus ANCA-negative) necessitate different approaches.
 Although some laboratory parameters (for example, eosinophil count or ANCA) are commonly monitored, there are no reliable biomarkers to measure disease activity in EGPA. Disease activity should therefore be assessed on follow-up only using validated clinical tools.
Routine monitoring of EGPA-related manifestations, with particular reference to lung function, cardiovascular events and neurological complications, is recommended. Long-term monitoring of comorbidities (such as cancer, infections and osteoporosis) is also recommended.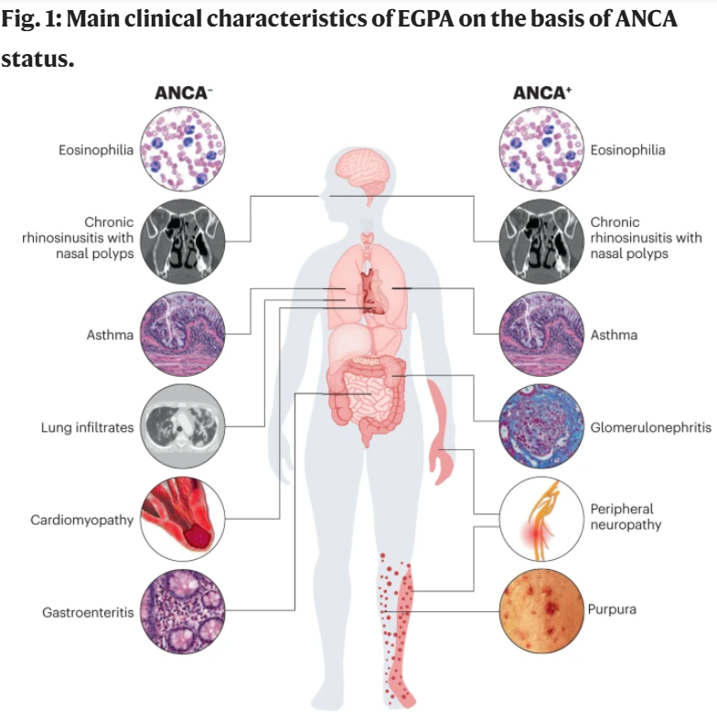 ADD THE FIRST COMMENT
Disclosures
The author has no conflicts of interest to disclose related to this subject