FDA: New Cardiac and Cancer Warnings for All JAK Inhibitors
Save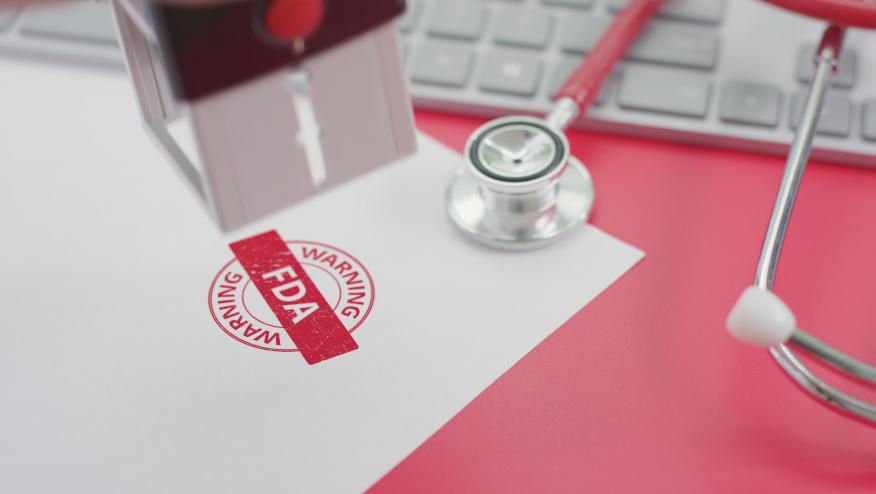 Today, Sept.1st, the FDA announced its findings regarding tofacitinib's safety concerns from the Oral Surveillance study - handing down warnings for not only Pfizer's JAK inhibitor, but also for other marketed JAK inhibitors from AbbVie and Eli Lilly & Co.
These safety concerns arise from the Oral Surveillance study - a large, post-marketing, safety trial of tofacitinib versus adalimumab in high risk patients. New warnings about the risks of cardiac events, death and cancer will appear as a revision to the "boxed warnings" in the product label (package insert) for all JAK inhibitors - tofacitinib, baricitinib and upadacitinib. 
Interestingly, the FDA extended their concerns to other JAK inhibitors (UPA, BARI), even though there is no post-marketing registry or safety studies similar to the tofacitinib trial. Nevertheless, the FDA notes that similar shared mechanisms of action may implicate the others JAK inhibitors in yielding the same adverse outcomes. 
Other marketed JAK inhibitors, from Incyte (Jakafi) and BMS (Inrebic), are unaffected by these actions as those JAK inhibitors are only approved to treat noninflammatory, hematologic conditions, like myelofibrosis.
This release, updates the initial safety concern published by the FDA on February 4, 2021. Previously, there were reports of an increased risk for venous thromboembolic events and death only seen with the use of high dose tofacitinib (10 mg bid).
The new FDA warnings require notice of an increased risk of serious heart-related events, cancer, blood clots, and death for JAK inhibitors that treat certain chronic inflammatory conditions. The Drug Safety Communication concludes "there is an increased risk of serious heart-related events such as heart attack or stroke, cancer, blood clots, and death with the arthritis and ulcerative colitis medicines Xeljanz and Xeljanz XR (tofacitinib)".  
Complete data from the Oral Surveillance trial were not made available, but the FDA review of the final trial results showed a higher rate of serious heart-related events such as heart attack and stroke, cancer, blood clots, and death in patients treated AT BOTH dose of tofacitinib, compared TNF blockers.
Importantly, a higher rate of blood clots and death was seen with both doses of tofacitinib.
A cancer concern has been raised as a higher rate of lymphomas was observed in tofacitinib treated patients and an increased risk of lung cancers were seen in current or past smokers treated with tofacitinib (compared to TNF blockers). 
The FDA is informing clinicians to consider:
Be aware of the JAK inhibitor (JAKi) associated risks of serious heart-related events, cancer, blood clots, and death.
Discuss the benefits and risks of using JAK inhibitors when starting or continuing JAK inhibitor therapy, especially in patients who are past smokers, have cardiovascular risk factors, or have a known or new malignancy, other than a successfully treated nonmelanoma skin cancer.
Reserve these JAK inhibitors for patients who have had an inadequate response or intolerance to one or more TNF blockers. 
Report JAK inhibitor related adverse events to the FDA MedWatch program.
The FDA warns patients on (or starting) tofacitinib, baricitinib and upadacitinib to:
Discuss JAKi use with their health care provider noting any history of  smoking, heart attack,  other heart problems, stroke, or blood clots (these may increase risks associated with JAKi use)
Seek emergency help if they have any symptoms that may signal a heart attack, stroke, or blood clot
Read the Medication Guide for each prescription, which explains the safety risks and provides other important information.
This prolonged FDA safety review of tofacitinib has set back the rapidly expanding JAK inhibitor class, as several new indications are still pending FDA decision, including tofacitinib for ankylosing spondylitis, upadacitinib for atopic dermatitis, psoriatic arthritis, ankylosing spondylitis, and baricitinib for atopic dermatitis.
Disclosures
The author has received research/grant financial support on this subject
The author has received compensation as an advisor or consultant on this subject
Add new comment