Immune Checkpoint Inhibitor Associated Arthritis
Save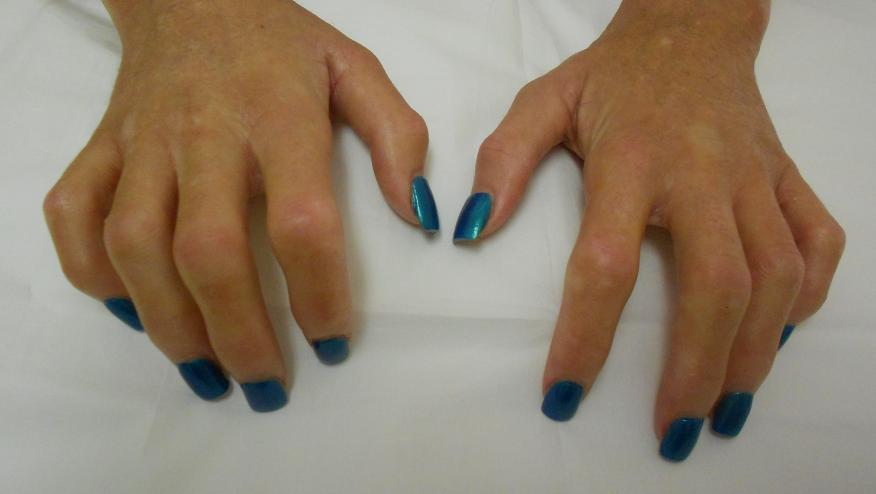 Immune checkpoint inhibitors (ICIs) have dramatically improved outcomes in numerous cancers but have been hampered by a growing spectrum of immune-related adverse events (irAEs). Rheumatic complaints may be less frequent than other irAEs associated with ICI in cancer patients. 
A 2021 study of 22 RA patients treated with immune checkpoint inhibitors (ICI) for malignancy showed that nearly half (55%) experienced a flare of their RA and 10 (83%) received corticosteroids with an adequate control of disease.  At the time of ICI initiation, 86% had inactive RA disease activity, 16/22 were on DMARDs, 7 on methotrexate and 8 already taking systemic corticosteroids.   Immune checkpoint inhibitors were temporarily discontinued for irAEs in 5 patients (23%), and permanently in 1 patient.  Overall, irAEs occurred in 73% of this cohort.
Bussel et al published a case control study looking at the occurrence of rheumatic irAEs between 2011-2020 at the Mass General Brigham and Dana-Farber Cancer Institute.  From a total of 8028 ICI-treated patients, 5% 9n=404) were referred for rheumatology consultation. This lead to 226 confirmed rheumatic irAEs (2.8%) and 115 (1.5%) with de novo inflammatory arthritis.  Predictors of rheumatic irAEs or new onset inflammatory arthritis  included melanoma (OR 4.06), genitourinary cancer (OR 2.22), combination ICI use (OR 2.35), prior autoimmune disease (OR 2.04) and recent steroid therapy (OR 2.13
A systematic review of checkpoint inhibitor–sssociated arthritis identified 372 patients from 67 reports. While polyarthritis was the most common presentation, only 9% of these were seropositive for RF or CCP. The most common cancer diagnosis was  metastatic melanoma (57%), with 78% of patients receiving anti-PD1 or anti-PDL1 therapy.
Key features of this review:
Median time to arthritis onset was 4 months (range, 1 day to 53 months)
Presentations: polyarthritis (49%) was most common followed by 17% oligoarthritis, 3% monoarthritis, 10% arthralgia, and 21% with polymyalgia rheumatica
Labs: 9% were positive for rheumatoid factor or anti–cyclic citrullinated peptide antibodies. ANA positivity was seen in 30% of cases
While 74% required corticosteroids, nearly half (45%) required additional medications
DMARD use included methotrexate (12%), hydroxychloroquine (11%), sulfasalazine (5%), TNF inhibitors (5%), and IL-6R inhibitors (3%)
Two-thirds (63%) of Arthritis irAEs were controlled by treatment and half were ultimately able to discontinue antirheumatic treatments.
Because of arthritis, ICI's were continued in 49%, transiently withheld in 11%, and permanently discontinued in 13%.  Overall 38% of  cases had to discontinue ICI therapy, 13% due to their arthritis.
Disclosures
The author has no conflicts of interest to disclose related to this subject
Add new comment