2022 Rheumatology Year in Review
Save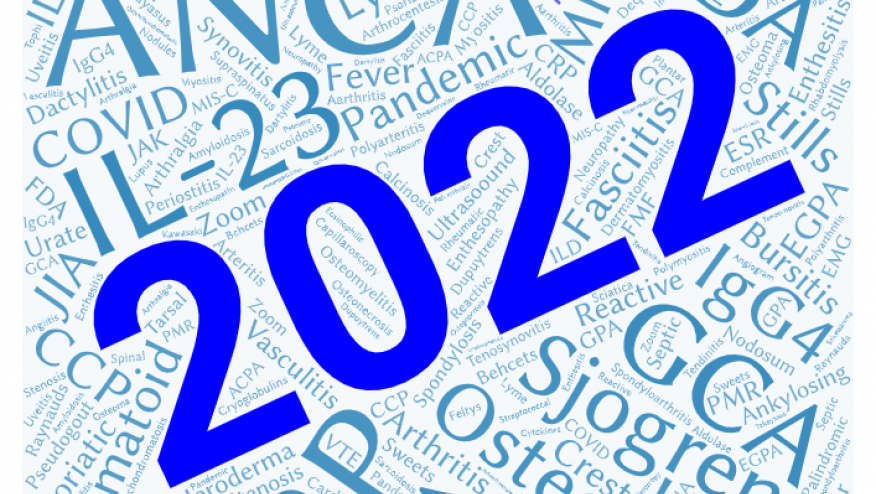 2022 was a year of recovery, discovery, and some losses.  While still dealing with the aftermath of COVID-19, rheumatologists were resilient as leaders for their patients and research in advancing rheumatologic care.
At the 2022 ACR Year in Review in Philadelphia, Drs. Carol Langford and John Varga presented their highlights from the past year. Both were stellar in their selections of rheumatology's important advances.  Dr. Langford's highlights include important studies, such as GLORIA (prednisolone), Oral Surveillance (tofacitinib), IVIG in myositis, MIRROR (MTX + Pegloticase), and CAR-T cell therapy in SLE. Dr. Varga highlighted the role of CD38hi CD8+ cells in lupus infection, severe lupus due to a gain-of-function mutation of the IRF7, and the role of clonal hematopoiesis of indeterminate potential (CHIP) increasing the risk of gout.
Other than going maskless, did your life and medical practice change considerably last year?  Have you continued or given up on Telemedicine?  Have you disregarded or bought into the new Guidelines?  Are you still a Zoomatologist or returned to flying and learning like the good old days?  For many their hallmark event was their return to a big face-to-face meetings like ACR, SOTA, RWCS or RheumNow Live. For most, life and rheumatology hasn't changed much; yet, slowly, and quietly, science and medicine made significant advances and changes in the last 12 months.
Below is my top 10 list (in no particular order) of advances, game-changers, and better medical practices that appeared in 2022.
FDA Regulatory Approvals: The FDA approved far fewer drugs in 2022, approving only 37 novel drugs.  Even worse there were no new drug approvals for Rheumatology!  This slowdown could reflect inaction (with COVID), less funding or Pharma shake-ups. Nonetheless, there were two new drugs approved for cutaneous psoriasis – deucravacitinib (Sotyktu; TYK2 inhibitor) and spesolimab (Spevigo; an IL-36R mAb) for pustular psoriasis flares.

New FDA Indications: There were, however, many new indications upon previously FDA approved drugs for rheumatologic disorders.  This included:

Pegloticase (Krystexxa; for coadministration with methotrexate in treating uncontrolled gout)
Ustekinumab (Stelara; in pediatric PsA)
Belimumab (Benlysta; in pediatric lupus nephritis)
Risankizumab (Skyrizi; for psoriatic arthritis and Crohn's disease)
Upadacitinib (Rinvoq; for spondyloarthritis and nonradiographic spondyloarthritis)
Baricitinib (Olumiant; for severe alopecia areata).  Notably baricitinib went from an Emergency Use Authorization (EUA) to an FDA approved agent for hospitalized COVID-19 patients
Tocilizumab (Actemra; approved for hospitalized COVID-19 patients (also previously used as an EUA since June 2021)
Anakinra (Kineret): the FDA has issued new EUA for hospitalized COVID-19+ patients

 

FDA hold up: Bimekizumab (dual IL-17A/F inhibitor) being developed for psoriasis and psoriatic arthritis received a delay (complete response letter) from the FDA relating to manufacturing issues. (These have been dealt with and the regulatory review process has restarted on this drug)

Advancing Lupus:  In the past we had approval of new lupus drugs (belimumab, anifrolumab, voclosporin) and experimental studies of rituximab followed by belimumab – all with promising results.  In 2022, we saw several new advances in SLE therapy:

CAR-T cell therapy: incredibly expensive, and unbelievably effective in only 5 severe SLE patients.  The Rheum world awaits more of this sort of innovation. Thanks to Dr. Schett and colleagues!
 Deucravacitinib (TYK2 inhibitor) was studied in the PAISLEY (phase 2) study and shown to be effective.  Will they succeed in phase 3 trials?  Unfortunately, we recently saw baricitinib and ustekinumab fail once they were tested in larger phase 3 studies.
New molecules, new hope. Orelabrutinib (BTK inhibitor) and BIIB059 (a mAb against BDCA2, a receptor on plamacytoid dendrititic cells) looked good in early phase I/II trials. One can only hope….

Dermatology Hot Spot: What happens (drug-wise) in rheumatology ends up in dermatology; or vice versa.  In 2022 there was more new drug approvals and indications for dermatology, than rheumatology. These included new indications for plaque psoriasis, pustular psoriasis, atopic dermatitis (eczema), alopecia areata and hidradenitis supprativa.

Alopecia areata: baricitinib was approved for AA, based on 2 large trials (AA-1 and AA-2).
Plaque Psoriasis: the FDA approved deucravacitinib (Sotyktu; TYK2 inhibitor)
Pustular psoriasis flares: spesolimab (Spevigo; an IL-36R mAb)
Atopic dermatitis: oral agents upadacitinib (Rinvoq) and abrocitinib (Cibinqo) joined topical ruxolotinib (Opzelura) and other new drugs (crisaborole/Eucrisa; a PDE4 inhibitor and dupliumab/Dupixent a mAb against IL-4 and IL-13) for eczema.
Hidradenitis supprativa: adalimumab was approved for HS in 2015; but there are new positive trials of IL-17 inhibitors (secukinumab and bimekizumab) in HS that are promising (These are not yet approved).

New Guidelines: are like traffic lights in New York City (just a strong suggestion)!  There were many that came down this past year – thanks to EULAR, ACR and GRAPPA. These are the ones you should judge yourself against and are worth printing out as clinical practice reference.
Attack of the Biosimilars: In the last 12 months there were two new adalimumab biosimilars approved, with a resultant total of 8 adalimumab biosimilars that will become commercially available in 2023 (as Humira goes off patent).  The 2 new ADA biosimilars are Idacio (adalimumab-aacf) and Yusimry (adalimumab-aqvh). In the USA there are 40 FDA approved biosimilars, and 17 of these are in the rheumatology space. This includes biosimilar versions of adalimumab (8), etanercept (2), infliximab (4) and rituximab (3).  
Multivitamin Letdown: JAMA article featured a U.S. Preventive Services Task Force (USPSTF) review, stating that there is insufficient evidence to support the use of multivitamins to prevent cardiovascular disease and cancer in healthy, nonpregnant adults. They did still advocate for a healthy diet and exercise as preventatives.
Where have you gone Telemedicine?   The growth of telemedicine following the pandemic was astounding with more than half of all rheumatology practices engaged in Telemedicine of some sort. Rheumatology is ideally suited to provide telehealth care as we are a cognitive (non-procedural) discipline, rooted in pattern recognition, safety monitoring and patient -reported outcome (PROs) measures for chronic medical conditions.  Nonetheless, after 2021, TM use by rheumatology has declined such that < 20% of Rheumatologists are still committed to TM. In my opinion, Rheumatologists should be delivering 20-50% of their care via telemedicine.  To not do this is a historic loss of function and expertise to the masses who need rheumatologic expertise.
FDA Safety issues: by comparison with the FDA's 2021 JAK inhibitor warnings, 2022 was relatively tame. A few warnings from the FDA included:

Denosumab: the FDA issued a warning about the potential for severe hypocalcemia in dialysis patients taking denosumab (Prolia), based on an interim safety data review. For now they recommend you monitor calcium levels and continue to use supplements of calcium and vitamin D in your patients.
Methotrexate coadministration with Pegloticase: The MIRROR trial led to the inclusion of MTX in the package insert, as MTX+PEG had better efficacy. But notably, PEG infusion reactions are more common with pegloticase alone (31%) versus 4% when pegloticase is co-administered with methotrexate.
Hydroxychloroquine and phospholipidosis: at the ACR 2022 meeting the FDA Safety address by Dr. Nair noted the rare association of HCQ with phospholipidosis (that may lead to cardiomyopathy or renal impairment). Phospholipidosis is a RARE lysosomal storage disorder wherein intracellular phospholipids in accumulate in the heart, liver, kidney, and skeletal muscle.

Inching Towards New PMR/GCA Therapies. 2022 saw several new studies demonstrating the efficacy of Sarilumab (SAPHYR Study) and Tocilizumab (SEMAPHOR and PMR-SPARE) studies in steroid-refractory polymyalgia rheumatica (PMR) patients. These studies and others in progress could lead to newly approved therapies in 2023.
Waiting for RA.  The study of pre-clinical rheumatoid arthritis has progressed significantly this year.  Such studies often include patients who are first-degree relatives, usually seropositive and have been called either pre-clinical RA, clinically suspect arthralgia or undifferentiated arthritis.  Some of the advances here include:

New microbiome suspect: The University of Colorado researchers have linked RA risk with the gut bacterium Subdoligranulum didolesgii. This ties in well with their "Mucosal origins hypothesis" to RA risk.
Sputum CCP antibodies: At ACR 2022, Wilson TA, et al presented their findings showing that non-RA individuals who were CCP+ were four times more likely to develop future RA if they had CCP antibodies in their sputum (Abstract #503).
ARIAA Trial: final 18 month data shows that CCP+ arthralgia patients benefitted from 6 mos. of abatacept by either slowing or preventing the future diagnosis of RA (35% vs. 57%). (Abstract #530)
STOP-RA Trial: Also presented at ACR22, this controlled gave either placebo or hydroxychloroquine to 144 patients without inflammatory arthritis but with CCP+. The study was stopped for futility, showing no benefit to HCQ intervention in pre-clinical RA.(Abstract #1604)
ADD THE FIRST COMMENT
Disclosures
The author has received compensation as an advisor or consultant on this subject